Standards
CodeHS offers the most comprehensive course pathway across grades 6-12. Our courses are aligned to standards across many states including California, Arkansas, Texas, Florida and more.
Additionally, many of our courses are aligned to the CSTA K-12 CS Framework. You can learn more about our alignment with the Framework for Intro to CS in Javascript here and Computing Ideas here
Curious about how our courses align to the standards for your state or district? Shoot us an email at hello@codehs.com and we'd be happy to chat.
UC A-G Approval
All main courses offered in the CodeHS 6-12 pathway are now University of California A-G approved! This means that if you're a teacher or an administrator in a California school or district, students can easily get A-G course credit for taking computer science courses through CodeHS.
Best of all, since our courses are pre-approved, it's easy to select CodeHS as an online course provider and register your classes.
You can access our courses on the UC A-G site here. To register your classes and use on of our approved courses, you can log in to the UC A-G Course Management Portal here.
Interested in learning more about our courses? You can find more information on each course below:
AP CS Principles Endorsed by College Board
CodeHS is recognized by the College Board as an endorsed provider of curriculum and professional development for AP® Computer Science Principles (AP CSP).
This endorsement affirms that all components of CodeHS's offerings are aligned to the AP Curriculum Framework standards and the AP CSP assessment. Using an endorsed provider affords schools access to resources including an AP CSP syllabus pre-approved by the College Board's AP Course Audit, and officially recognized professional development that prepares teachers to teach AP CSP.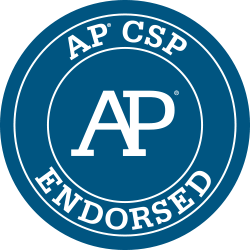 With our pre-approved and endorsed curriculum, it's super easy for schools and districts to register their courses with the College Board and use CodeHS to teach AP CS Principles.
Our pre-approved syllabus ID is 1667172v1. You can learn more about how to go through the AP Course Audit using our pre-approved syllabus at codehs.com/apaudit/apcsp.
Interested in diving into the course? You can review our in-depth course syllabus at codehs.com/syllabus/apcsp, or can sign up for a free teacher account at codehs.com/signup/teacher to explore the course for yourself.